TS4
Home > Products > EECP >
TS4


EECP® Therapy: Distinctly Different, Uniquely Vasomedical
EECP® therapy is offered exclusively by Vasomedical, the pioneer and world leader in the design and development of external counterpulsation systems. Vasomedical EECP® therapy systems are the ONLY external counterpulsation devices that have been proven effective in clinical studies published in leading cardiovascular peer-reviewed journals to provide benefits to patients suffering from angina and heart failure. With several hundred EECP® treatment centers around the world, the therapy has been clinically tested and used in many of the leading heart institutions.
The TS4 Offers the Latest in EECP® Treatment Technology and Patient Comfort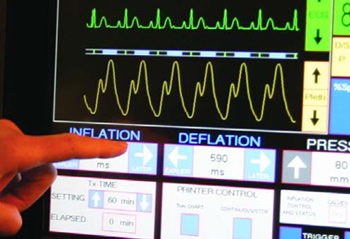 All operation is clearly displayed with integrated, touch-screen control of all therapy functions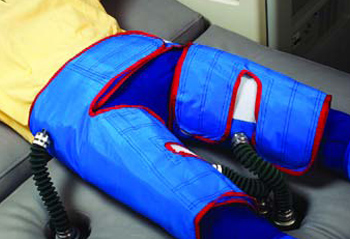 Cuff area can significantly alter the delivery of pressure to the patient depending upon the patient's size. Vasomedical EECP
®
therapy systems utilize five different cuff sizes to ensure proper fit for all patients.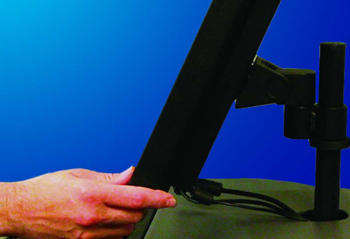 The fully articulating LCD display arm enables optimum viewing adjustment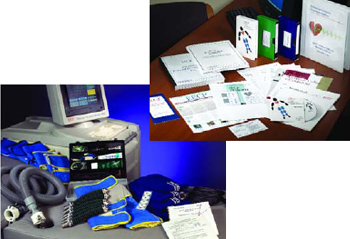 Vasomedical provides everything needed to expedite the implementation of EECP
®
therapy in a practice, from pants to cuffs and other required items for treatment, to materials that help educate and enroll patients.
| Features | Benefits |
| --- | --- |
| Independently verified, published clinical performance | Confidence in the therapeutic delivery that is designed for optimum patient outcomes |
| Patient cuffs in 5 sizes (XS through XL) | Fits a wide spectrum of patients for optimized compression, hemodynamic benefit and patient comfort |
| High-resolution color touch-screen monitor | Easy-to-view operating parameters constantly provide a visual representation of treatment |
| Wide treatment table with conforming foam | Greater patient comfort, reduction in vibration and more space to prepare the patient for therapy |
| Integrated lead ECG cable | Greater durability, reliability and reduced ECG noise interference during therapy |
| Built-in SpO2 | Provides spot-check of oxygen saturation during patient therapy per current IEPR guidelines for heart failure patients |
| Adjustable LCD display | Permits optimum viewing by the therapist; less neck & eye strain |
| High efficiency compressor | Less noise during therapy than prior models while improving pneumatic delivery |
| Solid-state storage system for patient data | More reliable than a standard hard drive |
| Onsite technical training programs and technician certification | Ensures that your staff is administering the therapy following best practices |
| Patient Recruitment Manual that outlines effective patient awareness and physician referral programs (includes marketing materials) | Supports the business needs of your practice |
| Reimbursement information and guidelines for effective billing | Supports the business needs of your practice |
| Intial start up pack | Includes all necessary materials needed to treat your first several patients to get the program started |
User Interface and Controls
| | |
| --- | --- |
| Triple trace display | ECG/timing marker, timing marker, plethysmograph |
| ECG and plethysmograph amplitude adjustment | Adjustable from touch-screen |
| High-resolution color touch-screen monitor | Easy-to-view operating parameters constantly provide a visual representation of treatment |
| Digital display | Heart rate in beats per minute Oxygen saturation in % System pressure in mmHg Treatment time in minutes Inflation/deflation timing in milliseconds |
| Display trace freeze | Enable/disable from touch-screen |
| Accumulated usage timer | Indicates compressor operating time |
| Monitor | 15-inch color active matrix LCD flat panel monitor with touch-screen control |
| Display resolution | 800 x 600 |
| Monitor swivel range | 360 degree horizontal, 60 degrees vertical |
| Computer | IBM-PC compatible |
| Keyboard | Alphanumeric keyboard |
| Print width | 100 mm |
| Trace printed | ECG, timing marker, plethysmograph |
| Other information printed | Date, time, patient name/ID, site name, treatment time, heart rate, %SpO2 and set pressure |
| Printer running mode | Dual, 5-second and continuous |
Visual Status Indicators
| | |
| --- | --- |
| Alarm (auditory and visual) | Patient stop (PATIENT STOP), end of treatment (END OF TREATMENT), tank air temperature too high (OVER TEMPERATURE), tank pressure is too high (PRESSURE TOO HIGH) All visual indicators are text messages with red background; re-settable by touching alarm message Alarm tone turns off when reset by touching alarm message |
| Alert (visual only) | Arrhythmia/artifact (ABNORMAL ECG), lead disconnection (NO ECG SIGNAL), heart rate too fast (HEART RATE HIGH), heart rate too slow (HEART RATE LOW), tank pressure below 80% of set point (PRESSURE LOW) and tank pressure above 120% of set point (PRESSURE HIGH) All indicators are text messages with yellow background |
Safety Features
| | |
| --- | --- |
| System self test result | Displayed on screen: SELF TEST PASSED or SELF TEST FAILED |
| Heart rate synchronization | AAutomatic |
| Deflation condition | Automatic deflation upon power interruption Automatic deflation upon losing ECG |
| Reservoir pressure dump condition | Automatic upon power interruption Automatic upon losing ECG |
| Inflation/deflation timing limits | Earliest inflation: 150 ms after R-wave Latest deflation: 30 ms before next expected R-wave |
| Aberrant trigger signals | No inflation activation on aberrant trigger signals |
| Patient activated stop treatment | Patient stop button |
| Over temperature | Tank air temperature limit: 150°F |
| Simulation mode compressor state | Compressor is inactive in SIMULATION mode |
Patient File Management
| | |
| --- | --- |
| Patient database file | Two individual files: PATIENT INFORMATION and SITE INFORMATION |
| Patient information | Name, address, phone number, ID, sex, date of birth, comments (50 characters), accumulated treatment time (in minutes); 250 patients maximum |
| Site information | Name, address, phone number, fax number, physician in charge |
| Database file format | CSV (comma-separated values) text format |
| Patient treatment time | Automatically accumulates in selected patient file |
| Aberrant trigger signals | No inflation activation on aberrant trigger signals |
| Patient activated stop treatment | Patient stop button |
| Over temperature | Tank air temperature limit: 150°F |
| Simulation mode compressor state | Compressor is inactive in SIMULATION mode |
| Database information display | Patient ID, patient name, accumulated treatment time (in hours) |
Electrical Performance, Safety & Electromagnetic Compatability
| | |
| --- | --- |
| Power requirements | 110±10% Vac, 50/60 Hz, 2 KVA max. (20A outlet compatible) 230±10% Vac, 50/60 Hz, 2 KVA max. (15A outlet compatible) |
| Front panel main indicator | Amber light indicates the presence of AC power in console |
| Front panel ON/OFF switch | Push ON/Push OFF type, illuminated when System is placed in operation |
| ECG circuit defibrillator protection | Up to 5kV, 400 Joules |
| ECG leakage current | Conformity to EN 60601-1 Standard |
| Isolation voltage | Conformity to EN 60601-1 Standard |
| EMC standard | Conformity to EN 60601-1-2 |
| Electrical safety standards | Conformity to EN 60601-1, UL60601, NFPA99 9-2.1.13 for leakage current, chassis and lead to ground |
Electrocardiogram (ECG)
| | |
| --- | --- |
| ECG electrode | Disposable Stress Test type electrodes are used to acquire ECG. Lead configuration is RA – LA – RL nominal. |
| ECG common mode rejection ratio | ≥ 90 dB |
| ECG frequency response | 1 to 20 Hz within -3dB |
| ECG digital filter | Line frequency rejection, 50/60 Hz |
| Accuracy of normal R-wave detection | False-negative events < 0.1%; False-positive events < one per 5 minutes |
| Accuracy of abnormal R-wave detection | ≥ 95% |
| ECG trigger range | 35 to 125 bpm |
| Heart rate range and accuracy | 30 to 180 bpm, ±1 bpm |
Plethysmograph
| | |
| --- | --- |
| Plethysmograph frequency response | 0.3 to 4 Hz, -3dB |
| Plethysmograph digital filter | Line frequency rejection, 50/60 Hz |
| Finger probe | Signal is acquired through photo reflective, reusable sensor |
| D/S ratio measurement | Augmented Diastolic/Systolic ratio is provided, manual trigger of area and peak ratio measurements are shown on screen in FREEZE mode |
Oxygen Saturation (%SpO2)
| | |
| --- | --- |
| Sensor signal acquisition | Sensor signal is used for oxygen saturation computation only |
| Saturation range | 0 to 100% |
| Accuracy (±1 Standard Deviation) | 70 – 100% + 2 digits using an adult Finger Clip Sensor 70 – 100% + 3 digits using an adult Flex or Reflectance Sensors 70 – 100% + 4 digits using an adult Ear Clip Sensor Below 70% is not specified for all sensors |
System Dimensions & Weights
Compant
LxWxH
Weight
control includes compressor
42x25x57(in)
107x64x145(cm)
504lbs
229kg
includes compressor
76x34x31(in)
193x85x78(cm)
270lbs
123kg