Lumenair™
Home > Products > EECP >
Lumenair™

LUMENAIR™ EECP® THERAPY SYSTEM. LIKE NO OTHER.
When it comes to instilling confidence, the new Lumenair™ EECP® Therapy System is like nothing else on the market.
It was designed by Vasomedical — the pioneer and world leader in Enhanced External Counterpulsation. Only Vasomedical sells
EECP® systems. Backed by clinical data, the new Lumenair™ System incorporates the same proven performance of EECP® technology
into a sleek, self-contained unit that is easy to use.

WE'RE HERE WHEN YOU NEED US.
In addition to the most advanced EECP
®
products on the market, Vasomedical offers the most comprehensive support services:
Service Support
Dedicated field service representatives install and maintain equipment.
Technical specialists in our call center are available to answer your questions.
Clinical Support
Clinical application specialists guide you through comprehensive program implementation.
Registered nurses experienced in cardiology provide extensive on-site clinical training.
Hotline available to assist with therapy related questions.
Marketing Support
A variety of patient education materials are offered to help launch your EECP® program.
Professionally designed patient recruitment guide includes event planning, public relations tools, and advertising materials.
Reimbursement Support
Regular corporate communication supports EECP® therapy coverage with CMS and third-party payers.
Telephone support line provides immediate assistance for billing and reimbursement questions.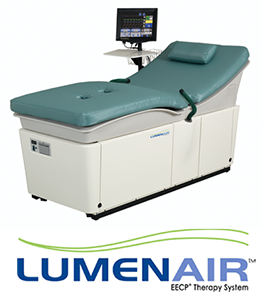 EECP® THERAPY: A TREATMENT YOU CAN RECOMMEND WITH CONFIDENCE.
Our patented EECP
®
Therapy Systems are the only devices for Enhanced External Counterpulsation on the market that have been proven effective. More than 80 articles, published in leading cardiovascular journals document significant benefits to patients suffering from angina and congestive heart failure.
EECP
®
Therapy Systems from Vasomedical have been installed in many of the world's leading heart centers, and their use continues to grow. More and more physicians are recognizing EECP
®
therapy as an additional tool for managing cardiovascular disease. And when it comes to selecting the right system, 8 out of 10 physicians choose one from Vasomedical.
THERAPY YOUR PATIENTS CAN BELIEVE IN.
Offered exclusively by Vasomedical, Inc., EECP
®
therapy is a noninvasive treatment for patients with angina and heart failure.Therapy is typically provided on an outpatient basis in 35 one-hour sessions over a period of approximately seven weeks.
The procedure is extremely well-tolerated. Patients wear special pants and cuffs and relax on the sculpted ComfortCurve™ treatment table, which provides recliner-like support. During therapy, they can read, watch television or visit with a spouse or friend. Some even sleep during therapy.