CPV
Home > Products > SphygmoCor >
CPV

The SphygmoCor® CPV System
The gold standard in noninvasive central blood pressure and pulse wave velocity assessment
SphygmoCor technology is the gold standard for noninvasive measurement of central blood pressure and pulse wave velocity. It has been featured in hundreds of published clinical studies, and is used in leading medical centers worldwide and in pharmaceutical clinical trials.

SphygmoCor systems acquire the patient's radical pulse wave form through a measurement taken at the wrist, derive the blood pressure wave form at the ascending aorta and report vital central blood pressure data.
The SphygmoCor CPV system also measures pulse wave velocity between two arterial locations.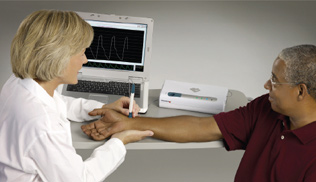 Features
Instantaneous calculation of key parameters, including
Ascending Aortic Blood Pressure
Pulse Wave Velocity--any two accessible arterial sites
Aortic Pulse Presssure
Aortic Augemtentation Index
Ejection index
Automatic, real-time QA feedback—minimal potential for operator variability
Only one operator required
Noninvasive tests, comfortable for patients
Heart Rate Variability Option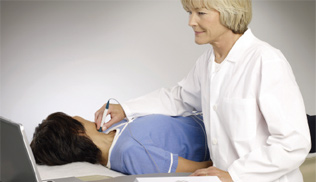 Benefits
Central pressure proven to be a superior, independent predictor of future cardiovascular events
Allows assessment of vital drug effects that cannot be detected with brachial pressure measurement
Provides patients with visual evidence of the effects of lifestyle changes and drug therapies
Allows integrated analysis of aortic and arterial tree stiffness
SYSTEM SPECIFICATION
Product Configuration
| | |
| --- | --- |
| Product | Inputs |
| SCOR CPV | Tonometer ECG |
| SCOR CPVH | Tonometer ECG |
Physical and Environmental Specifications
Operating Ambient temperature:
+15°C to 30°C (59°F to 86°F)
Operating Relative humidity
20% to 80%
Power supply (USB powered):
Supply Voltage Power Consumption Protective Class
USB +5VDC 500 mA Max IEC Class I, II or Internally powered (Depends on Computer that module is connected to.
Applied Parts
Type CF (ECG)
Type BF (Tonometer)
Power Connector
Via USB Type A Connector
Physical Specifications
Enclosure Material Weight(Module & Tonometer) Dimensions
PC-ABS 0.8 kg (1.8 lbs) 16.0 (l) x 26.4 (w) x 5.8 (h) cm 6.2" (l) x 10.4" (w) x 2.3" (h)
Input Signal Specifications
Input
Specification
Tonometer
Diffused semiconductor whetstone bridge sensor
Sensitivity 5 μV/V/mmHg
Contact Pressure Range 0 – 300 mmHg
Calibration Un-calibrated (Calibrate manually
with sphygmomanometer)
Reference Pressure Bandwidth Sampling Rate Gain & Offset Adjust Signal Range, Accuracy
Atmosphere DC – 40 Hz 128 Hz Auto 10mV, ±5%
ECG
Type Bandwidth
3-Lead (Lead II) 0.67 – 40 Hz (Device does not support extended low frequency response)
Sampling Rate
Gain & Offset Adjust
Signal Range, Accuracy
Heart Rate Range
Heart Rate Accuracy
PWV: 128 Hz HRV: 1024 Hz
Auto
±5mV, ±20%
30 BPM to 200 BPM
±10 %
Footswitch
Type
IP Rating
Micro-switch
IPX8-1.0m
PC Interface Specifications
Specification
Minimum Computer Requirements.
IBM compatible PC or notebook computer with: Pentium Processor P4 or greater
1 GB RAM
1024 x 768 256-colour XGA display
60GB initial free hard disc space
CD-ROM drive
Windows standard printer drivers
Dedicated USB port
Windows XP Pro or Business Pro only
Vista Business or Vista Ultimate only
The SphygmoCor® EM3 is not supported on Windows NT/95/98/ME.
Unication Interface
USB 1.1 serial interface
USB Type B Female connector
Regulatory
FDA clearance
EU CE Mark (MDD, ANNEX II, Class IIa)
MHLW, Japan
TGA, Australia
IEC 60601-1/ AS/NZS 3200.1 (amendments 1 and 2) Electromedical Equipment Safety standard
IEC 60601-1-2 Electro-Medical Equipment, ElectroMagnetic Compliance (EMC) Standard