Vx
Home > Products > SphygmoCor >
Vx

SphygmoCor® Vx
The SphygmoCor Vx Pulse Wave Velocity System non-invasively measures the speed (m/s) of the pressure wave between two locations in the arterial tree. The pressure wave travels faster through a stiffer vessel, therefore Pulse Wave Velocity is a very important measure of the stiffness of that arterial segment.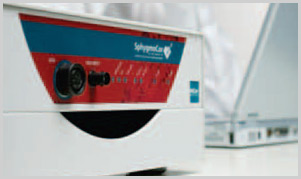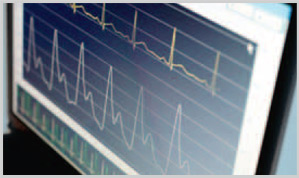 Arterial stiffness is now recognised as a major driver of cardiovascular disease. An increase in arterial stiffness elevates central systolic and pulse pressure – as well as left ventricular afterload – and decreases coronary artery perfusion pressure. These effects increase the risk of stroke, heart failure and myocardial infarction. Pulse Wave Velocity is a well established technique for measuring the arterial stiffness of an arterial segment. Most commonly it is performed between the carotid and femoral artery sites, to primarily measure the stiffness of the aorta. The SphygmoCor Vx Pulse Wave Velocity System is offered as an add-on option for the SphygmoCor Px Pulse Wave Analysis System. It uses a 3-lead ECG in conjunction with a tonometer to measure the pressure pulse waveform sequentially in two peripheral artery sites.
Features and Benefits
The SphygmoCor Px/Vx System provides a comprehensive assessment of arterial stiffness and the clinical impact of arterial stiffening on key central parameters driving cardiovascular risk
It is a simple-to-use doctor's office Pulse Wave Velocity System, with automated software analysis and database facilitiesk
The pulse waveform recordings and ECG recordings are extensively evaluated to ensure consistent quality
The system can be used on any two accessible arterial sites
Only one operator is required to use the system
System Specifications
SphygmoCor® Pulse Wave Velocity System: Model SCOR-Vx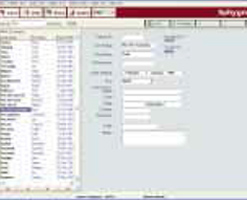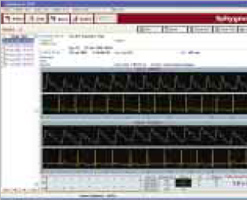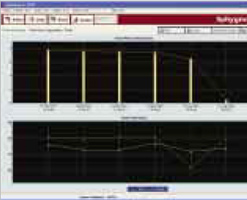 Standard system configuration
SphygmoCor signal processing electronics module
SphygmoCor software system
SphygmoCor pressure tonometer
System documentation
ECG Cable & Leads
Performance and operating specifications
Analysis data

User selectable proximal and distal artery sites
Pulse Wave Velocity with standard deviation
Heart Rate
Graph of ΔTs for each set of pulse waves
Option of using 4 different Algorithms to determine pulse wave trigger points on pressure waveforms:

Max dP/dT
Pulse Height %
Max 2nd Derivative
Intersecting Tangents

Quality Control Parameters for raw signal recordings
Quality Control Algorithms
Timing data
Statistical Analysis table provides mean and standard deviation data
Trend analysis
.
User selectable graphs showing the trend data for serial patient studies:
Pulse Wave Velocity
ΔTs and their standard deviations
Heart Rate
Report format
Standard patient report includes:
10, 20, or 30 seconds of each simultaneous pressure ECG waveform recording
Graph of ΔTs for each pulse wave
Quality Control Parameters
Statistical tables
Pulse Wave Velocity with standard deviation
Systolic, diastolic, mean pressures as entered by the operator
Trigger points marked for each pressure – ECG waveform pairs
Calibration
The recorded pressure waveforms are calibrated using the brachial pressures as measured by conventional cuff sphygmomanometry. The blood pressures are reported for reference only.
Software features
Integrated with SphygmoCor Px Pulse Wave Analysis System
Patient database in Microsoft® Access format
Improved algorithm for detecting ECG timing points
Export Function allows data to be readily analyzed with Excel, SPSS, etc
Import measurements from previous versions of SphygmoCor PWV software
Up to twenty patient databases can be set up for different clinical studies
Batch printing of selected reports
Two capture windows for real-time data capture featuring:

Auto-scaling of peripheral pressure and ECG waveforms
Display of the entire user selected capture time of data
Patient listing facility – to view and print last time a patient undertook a study
Minimum computer requirements
IBM compatible PC: Pentium III/Celeron Processor 400 MHz; 128 MB RAM; 800x600 256 color SVGA Display; 100 MB initial free hard disk space (more for data storage), CD-ROM drive
Equipment interface: RS-232 serial or USB port
Operating System: Windows 98SE/ME/2000/XP
Printing: Windows Compatible Printer
Operating conditions:
Ambient temperature: 15-30°C
Relative humidity: 20-80%
Power supply (mains power):
220-240 VAC, 50 Hz
100-110 VAC, 50/60Hz
12VA
Regulatory
FDA 510K
EU CE Mark (MDD, ANNEX II, Class IIa)
MHLW, Japan
TGA, Australia
IEC 60601-1/ AS/NZS 3200.1 (amendments 1 and 2) Electromedical Equipment Safety standard
IEC 60601-1-2 Electro-Medical Equipment, ElectroMagnetic Compliance (EMC) Standard